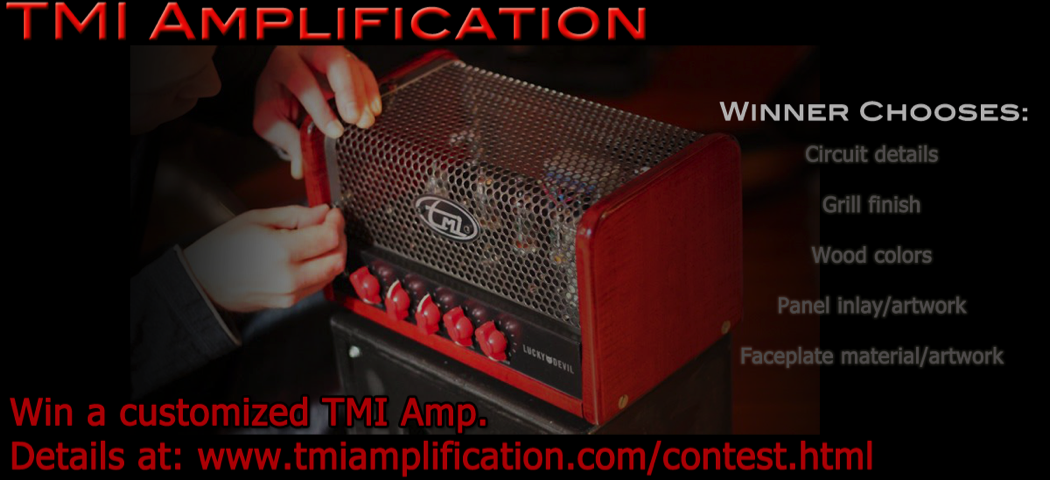 This is a merit based contest. We are interested in fostering collaboration with other like-minded musicians through this contest.

Contestants are asked to download one or two 'work-in-progress' songs by the recording group Tiny Man Inside, which features guitarist Mason Wolak and vocalist Huy Dao. Contestants must write, perform, record, and submit an original guitar piece to accompany the song. All submissions will be evaluated by the members of Tiny Man Inside and the submission that most closely matches the feel, direction, and flow of the song will be designated as the winning submission. TMI Amplification will then build a fully customized 5 watt guitar amp for the winner, who is then responsible for re-recording the guitar part using the TMI amp. This guitar part will then be used in the final version of the song, which will be mixed and mastered by a professional audio engineer who was previously a member of a Grammy-nominated band (more details on that later). Please check the Prize Listings link for details on additional prizes.

The Sound Bed for song #1 is posted here and here. We are looking for a guitar solo in this subsection of the song.

The Sound Bed for song #2 is posted here and here. We are looking for a rhythm guitar part for this song.

There are two options because we realize that not everyone is going to want to play on a metal song (song #1), so the additional song is an option to broaden the contestant pool. Please keep in mind that these sound beds have not been mixed or mastered and should be considered demos/sketches.

Click on the links above to preview the songs and download the mp3. The download button is the last button in the 'Song Actions' section of the page.

Here are the obligatory rules:

Contestant must LIKE TMI Amplification on Facebook or follow TMI Amplificaiton on Twitter.
Contest will be open until November 30, 2013, OR until 35 official entries are logged. If 35 entries have not been logged by Nov. 30, the submission window will be extended until the minimum number of entries are obtained.
One one entry per song per contestant. You may enter a submission for either or both songs. Important: we are looking for a guitar solo for song #1 and a rhythm guitar part for song #2.
Entries can contain more than one guitar track. Feel free to layer parts if you are so inclined.
Contestants may use whatever guitar and recording equipment that they prefer. If you do not have audio recording equipment, you can submit a video of you playing along to the song. If you choose to do a video, please make sure to remove any identifying features from the frame of view.
Please submit your entry to mason@tinymaninside.net. My wife will catalog all entries and forward them to Mason and Huy at the end of the contest. All entries will be renamed so that the judges do not know who the submitter is.
Winner of the amp agrees to re-record the winning guitar part using the TMI amp.
TMI Amplification agrees not to use any of the submitted sound files except for the winning entries.
Any questions should be sent to mason@tinymaninside.net.

Please check back often for updates. Please bookmark this page so you do not lose the email address for the submission.

Thanks to everyone who participates, and good luck! I'm looking forward to building someone an awesome amp!

-Mason



Complete Contest Rules :: Song Files :: Prize Listings :: Giveaway Guitar Amp Details